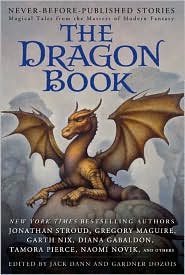 Hardcover: 448 pages
Publisher: Ace Hardcover
Released: November 3, 2009
ISBN: 978-0441017645
Recommended for: fantasy readers
My rating: 4/5
My thoughts:
This is a collection of nineteen short stories focused on Dragons, written by many of today's best fantasy writers (Jonathan Stroud, Gregory Maguire, Garth Nix, Diana Gabaldon, Tamora Pierce, Harry Turtledove, Sean Williams, Tad Williams, Naomi Novik, Peter Beagle, Jane Yolen, Adam Stemple, Cecelia Holland, Kage Baker, Samuel Sykes, Diana Wynne Jones, Mary Rosenblum, Tanith Lee, Andy Duncan, and Bruce Coville). The stories range from 10 pages to just over 50.
What I love about short story collections is the diverse views you get to read & the new authors you discover. Along with the typical dragon stereotype, dragons were living as humans, pests and one had them more worm like. Some dragons could talk, some ate people, some helped people. The stories featured some set in the modern day, while others were more like fairy tales or in a real fantasy setting. Of the nineteen stories, there was just two I have to admit skimming as they didn't capture my interest.
This is a wonderful book for people who enjoy fantasy. I wouldn't suggest devoring this book in one sitting as it may be 'dragon overload' but overall was a fun read.
-----------------------------------------------------------------------------------
Thanks to Penguin Canada, I have the opportunity to share this amazing book with TWO lucky winners!
Contest end date
: Wednesday, December 16th, 2009
Contest rules:



you MUST BE A FOLLOWER to join


open to CANADIAN addresses only please (please confirm in your post that you are Cdn or have a Cdn mailing address


leave a comment with your email address as I will contact the winner by email. Should you win, you have 24 hrs to respond, otherwise I will pick another winner. (I want to have the winners sent to publisher by Friday the 18th since it's getting so close to Christmas)


Additional entries:
+1 for promoting the contest on your blog (sidebar is fine)
+1 for tweeting (include me in the tweet @hefollowedme OR pasting your tweet link)
+1 for commenting on my review (something meaningful)
+1 for referring a friend (just get them to mention your name & blog)

Good luck everyone!!