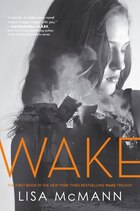 Paperback, 224 pages
Publisher: Simon Pulse
Released: Dec 23 2008
ISBN: 978-1416974475
Recommended for: all YA readers
Teaser quote:
Carrie sits up in her sleeping bag and screams.
Janie screams too, but it catches in her throat.
Her voice is horse.
Her fingers are numb.
Her body shakes from the nightmare.
My rating: 4 /5
My thoughts:
Ever since Janie was a kid, she knew she was different. When in close enough proximity to someone who's sleeping, she gets sucked into their dreams (or nightmares). She finds it frustrating to be only an observer. Since discovering her "talent", she can't enjoy sleepovers and is even finding school hard now that she's older and people are falling asleep in class! When Caleb comes into her life, he is exactly what she needs. As he learns more about her ability, he shows her she has more control than she thought. And Caleb, well, he sure isn't the type of person she thought he was!
All this talk about the upcoming release of Fade had me running to the store to start with book one of the series, Wake. The writing style (short, choppy sentences told in third person) had me a bit worried in the beginning but didn't take long to get used to and soon enough I was hooked! This is a real page turner that makes for a quick read. Set aside a few hours to read this as, once you pick it up, you won't want to put it down. Then as soon as you finish, you'll be looking for books #2 (Fade) & #3 (Gone - to be released Feb 9 2010).
I would have given it a 5 but there was one part of the plot that bugged me. You know when something happens/doesn't happen & you are scratching your head wondering why the character did/didn't do something that seemed so obvious, ya that happened. I'm sure it'll come up in Fade but still, why say nothing here?! Grrr.