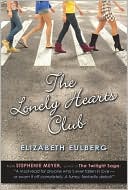 Publisher: Point
Released: December 29, 2009
Hardcover, 320 pages
ISBN-13: 978-0545140317
Recommended for: everyone, guys included as they could really learn something here! LOL
Teaser quote:
I wondered if it would've been too subtle to wear a T-shirt that said THANK YOU FOR YOUR INTEREST, BUT I AM NO LONGER DATING.

I knew Todd wasn't a huge fan of reading, but he did like to stare at my shirts.
My rating: 5 /5
My thoughts:
After being crushed by the guy she's loved since she was a kid, Penny Lane decided it was time to avoid boys thus avoid all the troubles that come with them. She creates The Lonely Hearts Club (named after a Beatles song) and soon two good friends join, then a few more until almost all the female high school population is in on it. As time goes on, they soon figure out that maybe cutting off boys completely isn't the solution after all...the most important thing is each others friendship & support.
It is predictable at times but not in a bad way, more in a "oooohh, I see where this is going & can't wait to see how this plays out!" kinda way. The story carries such a few important messages and really sticks to them from beginning to end...stay true to yourself, don't change for others, the importance of friends. I loved the character development, seeing everyone draw strength from each other. My favorite characters: Penny is the perfect leader, Tracy the strong & funny best friend everyone needs, Diane who discovered who SHE wanted to be and worked to get there and Ryan, swoon, does such a guy truly exist?
I loved her quirky parents who are total Beatles fanatics (hence their kids names Penny Lane, Rita & Lucy). Having grown up myself with a huge Beatles fan, my Dad, I loved catching lines from their songs incorporated into the story. I really hope the teens that read this can appreciate the awesomeness that is Beatles & catch the references. Did you know that the cover art is a play on
The Beatles Abbey Road
album cover?
This should seriously be required reading before entering high school. A fabulous debut that everyone must read...I know I'm going to be gushing about this for a while :)