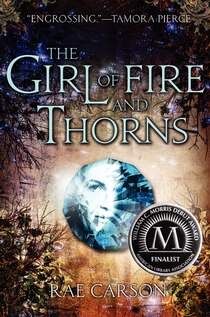 Hardcover, 432 pages
Released: September 20, 2011
Publisher: Greenwillow Books
Other places to find the book:
Amazon.com
Bookdepository.com
Chapters.ca
Goodreads.com
Once a century, one person is chosen for greatness.

Elisa is the chosen one.

But she is also the younger of two princesses, the one who has never done anything remarkable. She can't see how she ever will.

Now, on her sixteenth birthday, she has become the secret wife of a handsome and worldly king—a king whose country is in turmoil. A king who needs the chosen one, not a failure of a princess.

And he's not the only one who needs her. Savage enemies seething with dark magic are hunting her. A daring, determined revolutionary thinks she could be his people's savior. And he looks at her in a way that no man has ever looked at her before. Soon it is not just her life, but her very heart that is at stake.

Elisa could be everything to those who need her most. If the prophecy is fulfilled. If she finds the power deep within herself. If she doesn't die young.

Most of the chosen do.
My Rating:
4.5 / 5
My Thoughts:
I've noticed myself enjoying more and more fantasy this year where you are pretty much guaranteed strong characters, secrets and battles over power. The Girl of Fire and Thorns was fantastic!
From the first line I was drawn into the world Rae Carson created, you would never guess this is a debut. Her strong prose thoughout the story stand outs as impressive, I was captivated, eager to know what the Godstone meant and Elisa's chosen role. As pieces of her past are woven into the story, Elisa discovers more about who she is and the sheltered life she had lead.
On her sixteenth birthday. Elisa is married off to King Alejandro of Orovalle, unsure why it's not her beautiful sister that he chose.When they arrive at her new home though, there is no announcement, in fact it is a secret. Soon enough, she realizes there is more to this marriage then meets the eye. Kidnapped while asleep in the castle, this is where her true journey begins. This wasn't just another 'chosen one' story, it is about self-discovery as well. Elisa's journey changes her, making her a powerful force to be reckoned with. I enjoyed her more when she was with her captors (they were not out to harm her) and this is when we learn the Godstone's history. It is also where we meet Humberto ;) I have to say I was surprised at the lack of action on the part of some characters, but then again this is told from Elisa's perspective, limiting us to what we know. There was only one thing that bothered me a little during the story, which I should have known considering she is the carrier of a Godstone. Although I believe in a higher power, I am not religious so I found the repetitive use of 'God's will' a little tiring.
Knowing this was book one of a trilogy when I started, I anticipated being left with a cliffhanger. I am happy to report that, although the journey has just begun, the ending was satisfying, leaving you curious to know what comes next for Elisa. One of the strongest debuts I've read, if you love a story rich with lore, I think you'll love
Girl of Fire and Thorns
too
.