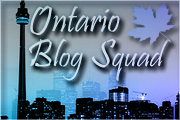 After days of anticipating 'the big day' as if it were Christmas, it finally happened! It's amazing to see how when a few people say "hey we should all meet up" it can quickly turn into something huge! A big thank you to the fellow Blog Squad members
Jackie
,
Liz
,
Nicole
,
Christa
,
Wendy
,
Angel
and last but not least,
Jen
.
The Blog Squad Team
It was awesome to see the enthusiasm for the meetup. The 37 free tickets were snagged up within a week; totally not anticipated. Who knew that there were this many eager bookworm bloggers in and around Toronto? But what was even more awesome was the support we received from all the publishers:
Random House Canada
,
Harper Collins Canada
,
Simon & Schuster Canada
,
Hachette Book Group Canada
,
Scholastic Canada
,
Penguin Canada
and
Kobo
! Another big thank you goes out to the participants and publishers for making this event beyond our wildest expectations!
Ok, let's get on with the show...Our day started off early, the organizers all met up at 10:30...we had the big (and exciting) job of putting together the goodies bags! Thankfully we had two cars to lug all the bags, but let me tell you the one block walk from where we parked to
The Duke of York
pub was painful. Carrying all those books was backbreaking work (there were five books in each bag and 38 bags)!
The Loot Bags
We arrived to see a few bloggers beat us there. Yes, there was excitement all around. Each person attending received a bag full of goodies: books and swag, including a mega size coffee mug! It was an afternoon full of mingling, putting faces to blog/twitter names and snacking on yummy nachos & quesadillas (generously provided by Jen)! Thanks to the donations, we had trivia questions to win t-shirts and raffle draws for rare ARCs, bookish goodies...and the grand finale was a
Kobo Touch,
generously donated by Kobo!
Here is a picture of my goodies!!! (jumps for joy)
Thanks so much to everyone for an awesome bookish day, we need to do this again :D