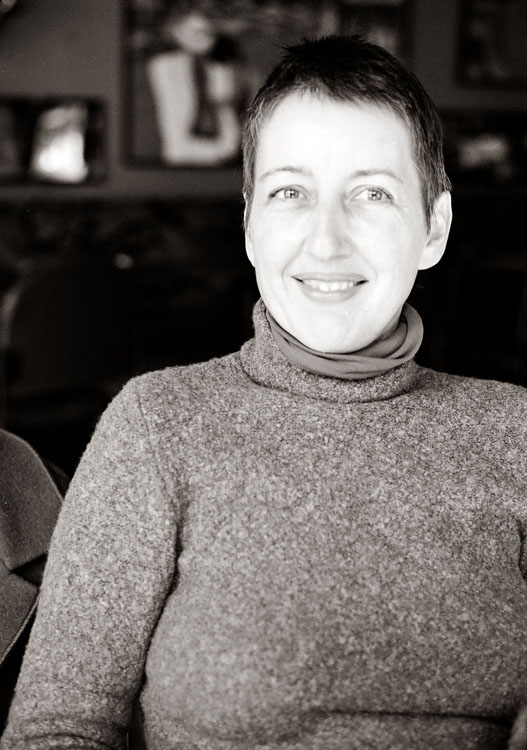 I am excited to have Joëlle Anthony, a fellow Canadian, on the blog today! Her debut novel,
Restoring Harmony
, was released just last week. I've included a mini review below as well below. Without further ado, please give a warm welcome to Joëlle!
Can you tell us about

Restoring Harmony
Well, it's a story about aliens invading the Earth by taking over Starbucks and putting mind altering drugs in the espresso…just kidding! That's old news!
Actually, the book is a story about family, music, a bit of romance, and a big adventure. Here's the book blurb from my publisher:
The year is 2041, and sixteen-year-old Molly McClure has lived a relatively quiet life on an isolated farming island in Canada, but when her family fears the worst may have happened to her grandparents in the US, Molly must brave the dangerous, chaotic world left after global economic collapse—one of massive oil shortages, rampant crime, and abandoned cities.
Molly is relieved to find her grandparents alive in their Portland suburb, but they're financially ruined and practically starving. What should've been a quick trip turns into a full-fledged rescue mission. And when Molly witnesses something the local crime bosses wishes she hadn't, Molly's only way home may be to beat them at their own game. Luckily, there's a handsome stranger who's willing to help.
Although set in 2041, with mentions of products that don't yet exist, when reading I found I couldn't help but also think about the past (Depression, prohibition) and present (how we rely so heavily on power sources, oil, electricity). I wonder if life could easily turn into that found in

Restoring Harmony

...although in the end, going back to the basics, having love and family all around you doesn't seem like such a bad thing! What inspired you to write

Restoring Harmony

?
Well, I think you're right when you say going back to things like family and hard physical work are actually good things. My husband and I are doing more of that every day – growing our own food, volunteering in the community, trying to help make our lives and our island more self-sufficient. I wrote a lot of the book while we were making these changes to our lifestyle, so it's hard to say what inspired what? I guess the idea of what we're trying to do every day influenced the book, and vice versa.
The Fiddle was Molly's little piece of home & the only constant throughout her journey. Why did you chose the fiddle?
In a way, a fiddle was sort of an odd choice for me to make because my husband plays practically every stringed instrument except the fiddle. You'd think I would've chosen something he could be my musical expert on, wouldn't you? I think, initially, I chose it because it's portable. You think guitars are portable until you start carrying one around! Fiddles are perfect for traveling. Also, I played violin as a child, so I already had some familiarity with it. And many of our friend play fiddle, so I planned to ask them for help, but in the end, I met Sarah Tradewell, the teen fiddler who looks exactly like Molly (my main character) and she became the fiddle expert for my book, so it all worked out beautifully. She's also in the trailer and recorded some of the tunes with my husband, and even wrote Brianna's Reel, which is a fictional tune in the book!
In the book the phrase "the house always wins" comes up many times, but inside the book, there is a lot of good overpowering the bad. I'm a huge Happily Ever After, glass is half full person, are you?
Totally. I LOVE happy endings. Not Disney ones, but the incomplete-but-with-lots-of-potential ones. I like the kinds of endings that are a bit of a tidy up, but really more like happy beginnings and so the reader (or me) can continue to imagine the next bit on her own.
What can we expect next from you?
My next book is called THE RIGHT & THE REAL and it's also from Putnam. I think it will be out in 2012, but it doesn't have a definite release date yet. I've written the first draft and handed it in, so I guess you could say we're in the editing process. It's about a teen girl whose father gets mixed up in a religious cult and when she refuses to join, he kicks her out on the street. The book is really about how she survives and like RESTORING HARMONY, it's a bit of an adventure.
About the author:
Joëlle currently lives on a tiny island in British Columbia with her musician husband, Victor Anthony. As for the future, their only plan is to avoid real jobs, write and play guitar in front of the wood stove, and live happily ever after. Look for her debut novel, Restoring Harmony, in May 2010 from Putnam. Check out
joelleanthony.com
for more information.
My Rating:
4 / 5
My Thoughts:
The main character, Molly, was wonderful to read about. At time her age shows and she is naive but I loved that she remained focused, determined to what she set out to do given the obstacles she encountered. Spill, the boy who helps Molly, comes from the wrong side and yet shows there is so much more to him. At times I wasn't sure how much to trust him/his circumstances but by the end his actions left me wanting to read more. Joëlle has created an interesting world in
Restoring Harmony
that left me appreciating the simple things in life and for that alone I am so happy to have read it!