In My Mailbox is a meme hosted by The Story Siren

My goodies this week: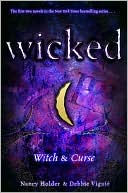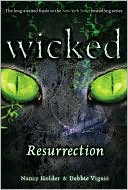 Just last week, it was announced that DreamWorks has acquired the rights to the Wicked series! Congrats Nancy & Debbie!
Witches, warlocks, destiny and death--Wicked a teen series from Nancy Holder and Debbie Viguié that's too powerful to put down. It will entrance you!


Hazel Stone wants nothing more than to be a part of the hottest clique in school, the Pretty Little Devils. She's got the style, she's cool enough, so how did she end up at a lunch table full of high school C-listers?Hazel has resigned herself to life as a nobody, when suddenly everything changes. Sylvia, queen bee of the PLDs, invites Hazel to one of the group's famous soirees—held at the site of their babysitting jobs.Before Hazel knows it, she's in with the in crowd—and she couldn't be more thrilled!But popularity comes with a price. Especially when one of Hazel's classmates becomes jealous of her newfound status—deadly jealous. And you know how school gossip can just rip a girl to shreds...


POSSESSIONS is the first of a series at least 4 novels. In this first novel, Lindsay Cavanaugh finds her way to a superposh boarding school high in the mountains of Northern California. There are a few problems–it's haunted, and the mean girls are possessed…will Lindsay ever find her way back out? And if she does, who or what will possess her?





Hi my name is Mel & I'm a chocoholic...

With gigantic vats of churning chocolate, desserts like their famous chocolate pizza, and 12 varieties of hot chocolate served in custom mugs, Max Brenner, Chocolate by the Bald Man has turned their line of hip, colorful themed restaurants into an international sensation.. Chocolate: A Love Story is a vibrant new cookbook that includes 65 original recipes narrated in the quirky, captivating voice of Max Brenner, the restaurant's visionary founder and "bald man." Bold original illustrations inspired by Art Deco poster graphics, full-color photographs, easy-to-follow, delicious recipes, and a serving of Max's unique vision for spreading "chocolate culture" around the world make this book a must for every chocolate lover.




I can't wait to finally start this series. The next book comes out in May 2010!

Richelle Mead's Vampire Academy books follow the war between two races of vampires, living and undead. Rose Hathaway, a 17-year old half-vampire, is training to be a bodyguard for the living vampires and finds her life complicated by the constant danger. As well as an illicit romance with one of her teachers, Rose continually struggles to protect her best friend from the evils that surround them.

Waht did you get this week?